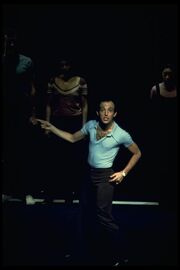 "I Can Do That" is the second musical number in A Chorus Line, and also the only male solo as performed by Mike.
I'm watchin' Sis go pitter-pat.
Said, "I can do that,
I can do that."
Knew ev'ry step right off the bat.
Said, "I can do that,
I can do that."
One morning Sis won't go to dance class.
I grab her shoes and tights and all,
But my foot's too small. So,
I stuff her shoes with extra socks,
Run seven blocks
In nothin' flat. Hell,
I can do that,
I can do that!
I got to class and had it made.
And so I stayed
The rest of my life.
All thanks to Sis
(Now married and fat),
I can do this.
That I can do!
I can do that!
Ad blocker interference detected!
Wikia is a free-to-use site that makes money from advertising. We have a modified experience for viewers using ad blockers

Wikia is not accessible if you've made further modifications. Remove the custom ad blocker rule(s) and the page will load as expected.