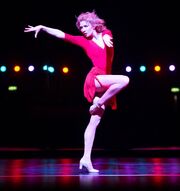 Cassie Ferguson is one of the auditioners in A Chorus Line who makes it past the initial cut. She was originally portrayed on Broadway by Donna McKechnie (who won a Best Actress Tony for the role) and is largely based on her own life.
Background
Edit
Cassie is the only auditioner who does not give her full name, age, or birthplace during the introductions. Supplementary and rough draft material to the show give her last name and that she was born in Minnesota. In the original script Zach reveals her age as 32, which would make her born in 1943 at the time of the play's premiere.
Her costume is a cranberry red leotard with wrap skirt and white heeled shoes.
Early Life/Family
Edit
No information is revealed about Cassie's childhood. During The Montage, it's revealed in her adolescence she loved going to the movies, once confused the difference between a birth control diaphragm and the breathing diaphragm, and had her mother tell her only special people got to be famous. No siblings or father are mentioned.
At some point Cassie lived with Zach and was briefly a featured dancer, getting out of the chorus when she was 22. After being unable to put up with his overworking tendencies, she moved to California to pursue stardom but only managed in landing bit parts. During her time in California she dated an agent and lived a wild lifestyle at the expense of mental and physical health, and had not worked for two years previous to the start of the audition.
An early draft of the script included more to Cassie's pre-song monologue that included the lowest point of her life as hearing her name as the answer to a question on a game show while vaccuuming her apartment.
The Audition
Edit
Cassie is the only auditioner during "I Hope I Get It" who does not sing or have a number. Aside from the botched introduction and her lines during The Montage, she does not speak up until her first confrontation with Zach where she pleads her case for auditioning, even if it's just for a chorus role. During the "One" rehearsal her steps are more polishly exaggerated than the others, leading to another confrontation about just what Zach and Cassie are each trying to prove to themselves. When Paul injures his knee, she is the first to recommend a doctor. She is one of the final eight dancers chosen.
During early workshops of A Chorus Line, Cassie was supposed to arrive late at the audition and be an all-around diva, which was nixed after it made her look unsympathetic. Also in the earliest previews she was not one of the final eight chosen, but was changed for a more hopeful ending at the recommendation of actress Marsha Mason, who argued that the audience's sense of hope would be crushed if she were not chosen.
The Movie
Edit
Cassie was portrayed in the 1985 movie adaptation of A Chorus Line by Alyson Reed. The diva entrance from the early workshops is recreated and Zach initally tells her to leave. She scrapes her arm while running for a taxi, and Larry helps her back into the theatre where she sits in the costume room and reminisces about her relationship with Zach. "The Music and the Mirror" is replaced with "Let Me Dance For You" and despite her not dancing with the auditioners up to that point, Zach allows her to go practice the "One" routine with them. After the second confrontation, Cassie does not participate in the Tap Combination but instead sings "What I Did For Love" by herself- Diana and the company's song about the love of dancing now given the context of a love song. She is still one of the final eight chosen, with the extra implication she and Zach may resume their relationship.
Ad blocker interference detected!
Wikia is a free-to-use site that makes money from advertising. We have a modified experience for viewers using ad blockers

Wikia is not accessible if you've made further modifications. Remove the custom ad blocker rule(s) and the page will load as expected.